Details
EXPERIENCE LIFE IN HIGH DEFINITION
Soflens®️ Daily Disposable contact lenses combine outstanding all-day comfort with crisp and clear vision, even at night. Fresh, new lenses every day means no daily cleaning, storage or care required. Just wear them for a day, and then throw them way.
COMFORT. VISION. CONVENIENCE.
OUTSTANDING ALL-DAY COMFORT
Soflens®️ Daily Disposable lenses achive a high level of comfort through ComfortMoist Technology - our unique lens design and innovative packaging solution. The slow-release packaging solution creates a cushion of moisture around the lenses, keeping your eyes comfortable all day through the end of the day.
CRISP AND CLEAR VISION, EVEN AT NIGHT
Soflens®️ is a daily disposable lens with High Definition Optics - a technology that helps reduce the appearance of blurriness, halos and glare. the result is crisp, clear vision even in low-light situations.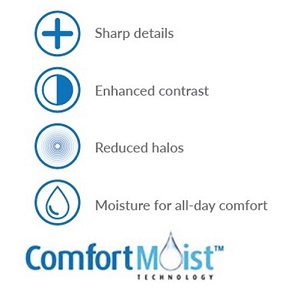 Lens Specification:

Vision Correction

Myopia: Distant objects appear blurry
Hyperopia: Near objects appear blurry

Base Curve (BC)

8.6mm

Diameter

14.2mm

Water Content

59%

Powers Range

-0.50D to -6.00D (0.25D steps);
-6.50D to -9.00D (0.50D steps);
+0.50D to +6.50D (0.25D steps)

Package Size

1 x 30 lenses/box

Replacement Schedule

Daily Disposable
Disclaimer: At Focus Point, we are committed to always provide fresh contact lens that are far from expiry dates. Hence at times, some of the contact lens power may be out of stock and it would take an estimation of 2-3 weeks for production to take place. Should your order falls into this occurrence, we will be in touch with you. Thank you.