Concept Stores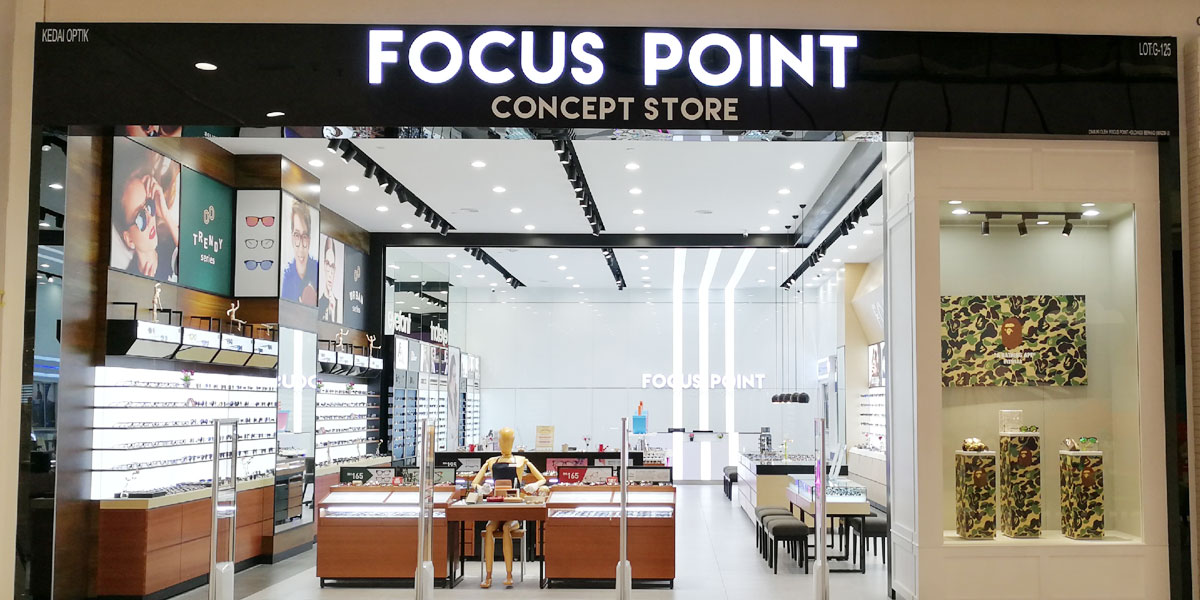 Focus Point Concept Store: Created with the aim of becoming a one-stop solution for all customers by combining all key concepts of various Focus Point outlets & brands. It allows customers to get all the eyewear needs sort out in just 1 location conveniently and quick. This store is designed to provide an open concept where customers can easily touch, feel and try on any pair of eyewear they like in a store that is much bigger than usual Focus Point outlets. We hope to provide a different shopping experience for all our customers in this unique store.
Focus Point Signature provides only the finest selection of products and brands. In addition to its great service and hospitality, it's Shop-In-Shop concept which allows brand fanatics to have a better shopping experience, 'teleporting' them into a realm filled with only their favourite brands. Equipped with i-Terminal 2 by Zeiss, a fast and high precision technology used to measure centration for perfectly-fitted eyewear, and i-Profiler plus by Zeiss, an easy-to-use eye profiling system infused with i.scription technology, customers are sure to walk away with perfectly-matched eyewear..
Focus Point: A professional eye care centre that caters for
consumers of all age groups.
Focus Point Outlet: For all bargain hunters, this is a store you should not miss! This store is always on sale for all products at up to 70%.
Opulence: An exclusive optical centre for luxurious eyewear brands.
Solariz: A dedicated sunglasses specialist centre carrying one of
the largest range of sunglasses.
Whoosh: Fast. Fresh. Forward. These words perfectly describe what Whoosh! was created for. Bringing you the latest in eyewear designs, Whoosh! eyewear will satisfy trendsetters who value style, quality, and professional advice on the go. With a wide range of designs in 3 distinctive styles, 4 fixed affordable prices and a great team of professional opticians, a style revolution is coming your way faster than you can say "Whoosh!". Our brightly lit Whoosh! store is designed with its open displays & welcoming atmosphere to showcase our latest eyewear styles. No stress, no sales pitches as you try until you're ready to consult our professional opticians. Next thing you know, your brand spanking new eyewear is ready in a Whoosh!
Eyefont: A store that houses majority of fashion, luxury, sports and performance eyewear under one roof.